Regimental Sergeant Major
Regimental Sergeant Major ITA ARMY Fabio PERONI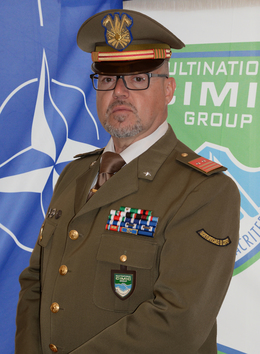 Regimental Sergeant Major Fabio PERONI
Regimental Sergeant Major Fabio PERONI was born in UDINE on 15 February 1968. He joined the Italian Army in 1984 and was assigned to the Corps of Sappers. After graduation from specialization courses, he was assigned to the 104th "Torre" battalion (Pioneers), in REMANZACCO (UDINE).
Due to another reconfiguration, he was posted to the 3rd regiment (Combat Engineers), in UDINE. With this Unit, he took part in tactical and operational activities on national soil, like operation "Vespri Siciliani" (in AGRIGENTO and PALERMO) and in Humanitarian relief operations, in support of the Italian population hit by a major landslide in SARNO (SALERNO), in 1998
His operational tours of duty include deployments to Kosovo: during Operations "Joint Guardian" and "Joint Enterprise", in year 1999 and year 2002 and as CIMIC Staff Officer at the Joint Regional Detachment Center (in Pristina), in year 2015. Also, he was deployed to Afghanistan with Operation ISAF in in year 2003 and year 2006 and to Iraq with Operation "Antica Babilonia", in year 2004.
In one further re-assignment, he served as Intel / Security NCO at the Italian Delegation to the Atlantic Council, in Brussels. He was finally posted to Multinational CIMIC Group, in MOTTA DI LIVENZA (TREVISO), in year 2012 to serve as Staff Assistant of the Commanding Officer.
He has graduated multiple specialization courses under the Corp of Engineers and in the Intelligence domain, including the military Intelligence course for NCOs at RISTA B.de in ANZIO (Rome) and the CJ2X Course at NATO school in Oberammergau (Germany), here he also held the NATO Command Senior Enlisted Leader Course in year 2018. In 2022 he took the 9th course for Regimental Sergeant Major.
He is fluent in the English and Spanish and has been awarded several decorations.
His wife Serena and him live in the town of Cinto Caomaggiore, in the VENICE province.
He has been appointed Regimental Sergeant Major at Multinational CIMIC Group on 21 November 2017.